Happy Sunday morning, everyone!!!
I finally got the first Tie the Knot favor box complete and photographed. This one took awhile because I employed some new techniques I came up with and also some I learned at CHA. This was fun!! First, I cut the favor box from Tie the Knot at fit to page, which gave me an 11" cut. Then I inked the edges with Stampin Up Chocolate Chip ink. Now I moved on to the embellishments. The key and lock are cut from an aluminum soda can using my Cuttlebug and a Sizzix die. Once they were cut, I inked them with the new FANTASTIC Viva Decor gold alcohol ink I got from Above Rubies Studio at CHA! LOVE that ink!!! Then I moved on to a heart from the new Love Struck cartridge. I cut it from chipboard and inked it with the Chocolate Chip ink as well. Then, using a technique I learned from Terri O at CHA, I used the Threadster and Scor-Tape, outlined the heart then filled it with Terri's microbeads. LOVE the look!!! Some more charms cut from chipboard from the Lovestruck cartridge and a cute little bird from the new Songbird cartridge round out the dangling charms. The ribbon is from a new kit I just received from Flowers to Flourishes. I have five more of these boxes cut out of different print cardstocks and can't wait to figure out some fun embellishments to decorate them with!!!
Thanks for stopping by my blog!!! If you have time, please leave a comment. I love to hear what you think of my projects!!!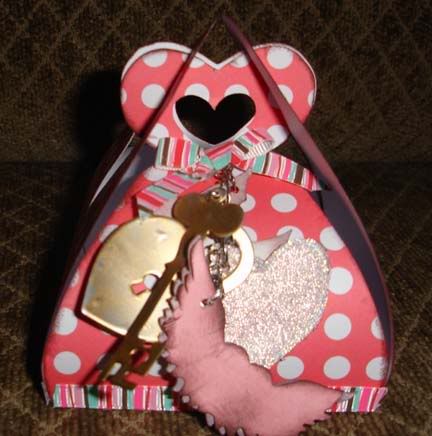 Blessings and hugs!