NOTE:
This post will remain at the top until the winner is chosen. Scroll down the page for projects.
Hi, everyone,
Well, I'm feeling so blessed and grateful that I decided to do another give-away! Thank you all so much for your response to my October give-away!!! I really appreciate you!!
To enter for this one is really simple!!! Simply post a comment to this post telling me what you are most thankful for! That's it!!! Easy peasy!!
What's in the RAK??? This time it will be a surprise!!! I will use the Random Number Generator at 9pm Pacific Time on Black Friday to pick the winner.
Good luck, everyone!!! Let's all count our blessings!!!
UPDATE: OK. Here's the first part of the give-away! (I am so excited and terrible at keeping secrets!!) There will be lots more, but thought I would give you a little teaser on part of what you can win!!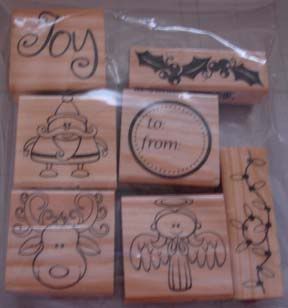 These little stamps are new at M's. Aren't they just so cute??? I think they will be so handy with the holidays right around the corner!! I think the angel and the to: from: stamp and the Joy stamp can be used year round. I just have to add that I am so touched reading the comments you all have posted!!! We are all so truly blessed!!
Are you feeling grateful yet?? Sure hope so!! No matter how bad things get, we all have things to be grateful for!!! Don't ya think???
OK, enough of that! I'm ready to reveal the next gift that will be part of the give-away. I think you'll like this one!! It is a chipboard wordbook from BoBunny and perfect for this time of year because it spells "BELIEVE"!! I can just see it all done up for Christmas with peppermint striped papers and pictures!!! It was hard to get a picture of this one, so I hope this will do. The size is 6" X 12 ", so it is a big one!!!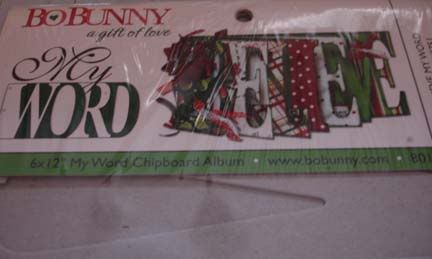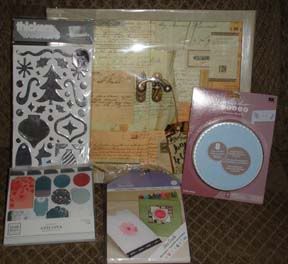 OK, so TWO new pics of the candy today! I'm feeling so generous and inspired from being at Robyn's (The Pink Stamper) live Ustream event today, I decided to post some more of the items I am giving away. This new pic shows: 12 X 12 K and Company "Life's Journey" Gate fold scrapbook. Now, I normally don't give away scrapbooks because lots of the scrapbookers have their favorites that they use, but this one was just so pretty that I had to pick it up to give away. It is post bound and comes with 20 inserts. Then, there is an 8-page accordian album in a tin from EK Success, a 128-piece boxed set of punchboard by Heidi Grace, a 20-project Idea Guide from Joann's Craft Essentials, and a package of Silver Foil Christmas Thickers. WHEW!!! Keep checking back, because I will be adding more candy as the days go by!! So, are ya feelin' grateful yet??? I sure am!! I continue to be inspired and blessed by reading all of your comments. Life is good!
UPDATE:

Though I haven't been posting pictures, lots of goodies have been added to this RAK since my last post. I won't type a list of everything here, but there are some chipboard shape albums, a Craft-Lite paper trimmer with changeable blades, and lots of other goodies. I have had so much fun shopping for goodies for this prize package!!! Counting down to Friday!!! Happy Thanksgiving, everyone!!!