Just a simple project for ya today! I don't even have it embellished yet, but just had to share!!! I love the look of the new Febreze Luminaries but with my asthma and the strong scents on their shades, they were a no go for me. My solution??? Make my own shade without the scent!!! To make your own, you will need a 12 X 12 sheet of cardstock that has the (usually white) border with the designers name or just blank. K and Company stacks have the white edge that makes the sheet of paper more than 12" on one side. This is where you will place your adhesive. Cut your paper crosswise so the white border is on one end of your shade. Make your shade whatever height you want!!! Score your shade at 3", 6", 9" and 12", apply your adhesive and you're done!!! You gotta try it!!!
OK, I'm off to embellish mine!!! What will YOU make???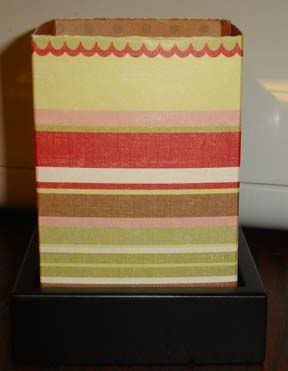 OK! Here's a pic of the completed luminarie. I just redid our guest bath in a lodge theme and this now sits proudly on a shelf that looks like it is made of logs. The trees are cut from Winter Woodland at 3". I sanded and inked the corners and edges with Studio G ink. Buttons are from Daisy D's. Ribbon from M's.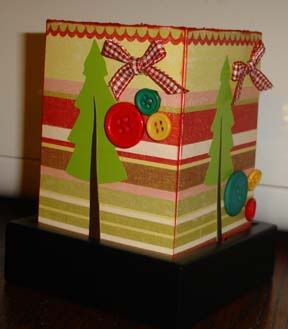 NOTE OF CAUTION: The Febreze luminaries have NO flame or heat source! They are battery operated units that give the illusion of a flickering candle. PLEASE do not try this with conventional candles, only the battery operated ones.