My Pink Stamper issued a challenge on her blog. The challenge was to create a project for someone you like or love. I created this project for some dear friends of ours. Their last name is "Bell". Even though this project may appear to be made of leather products, it is made entirely of paper. The letter were cut from the Storybook cartridge. The layers were embossed using the Cuttlebug. Shadows and layers were cut from Core-dinations cardstock. Brown letters cut from Bazill cardstock. The background paper that looks like leather is from Michaels open stock paper.
Here's a closer pic: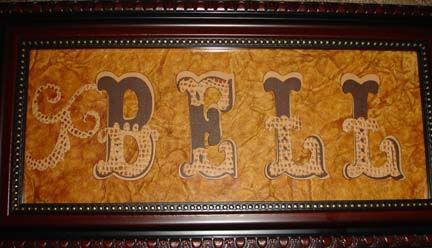 Thanks for looking! It felt good to create something. DH and I have both been really sick the last two weeks and with the holidays on top of it, I hadn't done any creating at all. I'm still not back to normal, but was good enough to play a little today!