On Halloween, normally the only Trick or Treaters we get are friends and family bringing their kids by. I started a tradition a few years ago of having a special treat for the moms and dads. Here is what they will be receiving this year.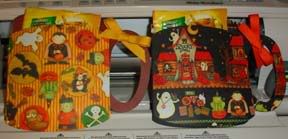 If you'd like to make your own, you can download my .cut file for the mugs
HERE
. You need the George cart to cut these.
Each mug holds a packet of Spiced Cider and a cinnamon stick to stir with. Paper is from Debbie Mumm's Holiday stack at Joann's. This project was inspired by several similar projects posted on the Cricut Messageboard. That board is a constant source of inspiration!